Our dairy in the Puy de Dôme
Our dairy factory located in the heart of the Auvergne Volcanoes Regional Natural Park
Our first dairy factory is located in a village named Theix, Saint-Genès-Champanelle, which sits at 900 metres above sea level, in a remarkable place in the Massif Central.
Indeed, the factory is located in the county of Puy de Dôme, in a breath-taking and unspoilt natural space, very close from the Volvic spring.
It is specialised in UHT milk and mountain milk processing and packaging.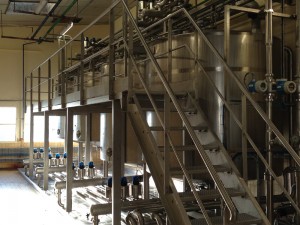 In our dairies, nature and authenticity rimes with quality and safety
Our dairy factory in Theix employs 160 people; among them, a 10 person team is exclusively in charge of quality. No less than 3400 analyses are carried out in the plant every day.
Our production site is certified in compliance with IFS higher level requirements (sixth version).
The factory's equipment is recent and very efficient. We also do a lot in order to reduce our water and energy consumption, with a permanent environmental concern.
The milk produced in our dairies is certified as a mountain product.
We are also officially authorised by Chinese authorities to export our products to China.